Scrolling Ads To Come To Adsense
December 13, 2007
As you may know by now if you have been using adsense for a while, Google is always coming up with new and improved ad units. Not so long ago they introduced new ad formats and even adsense video ad units. Well the team over at Google has been busy again!
According to spottings around the blogosphere, it would appear that Google has modified or rather added up and down scroll arrows to the bottom of the new adsense units and when you click the arrows you can scroll through the list of different ads listed.
A screenshot courtesy of blogoscoped can be seen below.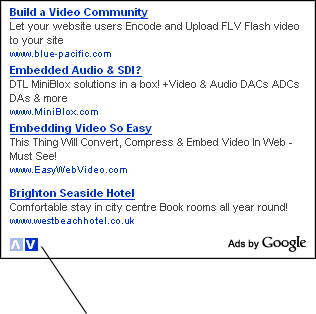 Scrollable Google Adsense Ads
Below is an excerpt I got from the downloadsquad blog:

If you click on the down arrow, the ad will scroll and you'll see a whole new page of contextual links. Hit the up arrow to go back to the first page. Now, the reason AdSense works so well for Google and web publishers is because people do click on ads sometimes. If you're visiting a web site about widgets and there's an ad for a widget generator, that link might be as relevant as anything else on the web page. But we're not sure we know too many people who will go out of their way to scroll through the ads to find more paid listings.

Continuous effort to help publishers earn more? Maybe, well in the end the more you earn as an adsense publisher the more Google earns.
Hope this post was of help to you!