Adsense Deluxe For WordPress
June 25, 2007
Each day there are more and more newcomers who create blogs using either Blogger or WordPress. These newbie webmasters and bloggers then discover Google Adsense and use this as their option to make money and earn while they provide useful information. I have received quite a number of emails asking how to add adsense to a blog especially by WordPress blog users.
In today's post, I will answer the question of how to add Google Adsense to your WordPress blog without too much hassle. There is an easier way to add or setup adsense on your wordpress blog. This is a little plugin called Adsense Deluxe. The plugin is easy to use and displays adsense ads according to your specifications and options that you specify in the program. Below is a screenshot of display options specified by user in Adsense Deluxe.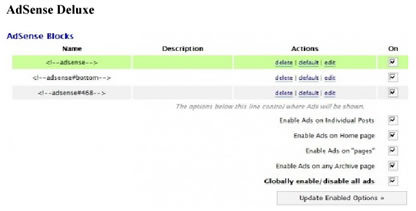 Adsense Deluxe can be used for both Google Adsense and Yahoo! Publisher Network making it even more useful and popular. When you download the zip and upload the plugin, it will place the Adsense Deluxe screen above into your WordPress options panel. The plugin enables you to specify ad sizes, ad position, ad colors, ad position and whether to display ads in posts or not. The plugin limits ads to three per page.
This great little piece of software is available for free and you can take advantage of this plugin by downloading Adsense Deluxe and then upload the plugin to your plugins folder.
Hope this post was of help to you.